You may have read that and thought... wait, what?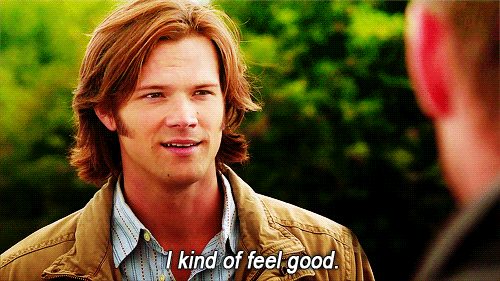 I know but bear with me. October
is
my favorite month... and the one I dread most. It's my birth month, so YAY! I'm cool with birthdays - this year I'll be forty-eight - even when it means the "Big 5-0" is ever closer. Life's good, I'm feeling pretty all right (aside from the usual aches and pains). I'm not happy with my weight, but it's within my control to do something about it, so I'd say I'm fortunate.

Plus, October is beautiful in my neck of the Universe (New England)... the leaves, the air, the *gasp, pumpkin spice everything, cozy sweaters, and fairs. Who wouldn't love all that? And what's my
heckin
' problem, man?
It's THIS...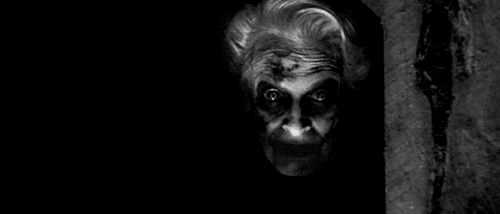 That Stuff.
Which brings me to the first reason I hate my favorite month
.
Number One
: I. Hate. Getting. Scared. That I even searched and posted the above GIF is shocking. Now, I try not to be
that guy
who blames their mother for their problems, but... this is TOTALLY my mother's fault. She loves scary movies. For as far back as I can remember, she watched them. On the highest volume. While I tried to sleep. We lived in a nine-hundred square foot apartment back then, people. There was no escaping the blood-curdling screams, demonic voices, or ominous music. I used to set all my stuffed animals and dolls around my bed for "protection"... until I had to make a bathroom visit and saw that damn Raggedy Ann doll in Amityville Horror.

Number Two
: As you can now guess... Halloween. I have an older brother, folks.
It goes without saying (
but I'll say it) big bro loved to scare the
b
ejesus
out of me. He once told me he saw the devil sitting in our great-grandmother's chair at our grandparent's house. I couldn't pass by the dining room without
assistance
for ten years. Ten
years
. So, it's a given that Halloween equaled double the terror time in our house. I can't recall a single costume he wore. Not a one. I think they call that selective memory? Or maybe repressed trauma?
Number Three
: The aforementioned costumes. Ugh. Costumes. I'd rather see fifty sexy nurse costumes than one
Jason, Freddy, Chainsaw Massacre, or the worst of all:
IT mask. Yes, I have a clown phobia. And balloons. And food touching my lower lip. But I digress. Those bleepin' masks. I. Can't. Take it.
Number Four
: Birthday parties. I know, I know. I said I like birthdays. But I don't like birthday
parties
for me. Dude, that is an introvert's idea of hell.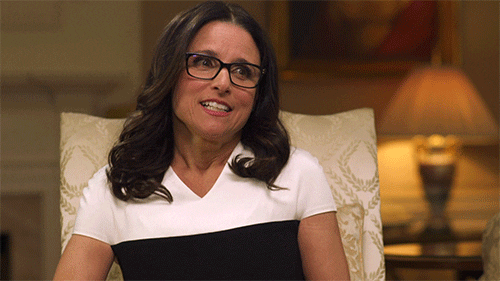 Number Five
: I always get sick. Yep, my normally
fabtastic
immune system says, oh, I think it's time for the cold from hell. Or, hey, maybe a little pneumonia might be fun! Maybe it has something to do with all those other dramas I mentioned?
Whatever the reason, I'm doubling up on Vitamin C and elderberry syrup. You're not getting me this year, nasty virus buggies.
So, to all you Halloween lovers...
I envy you. It must be so nice to not feel dread or burst out in hives at the thought of jack-o'-lanterns and packages of cotton cobwebs with little black spiders. But I want you to know, I'm putting on my big girl pants and toughening up for the sake of the crowd this year. I'm even going to - again, *gasp - wear a costume this year at the 2019 Fall in Love With New England Romance conference. I'm even -get this- excited about it! It'll be a surprise, so you'll have to wait to see what I went as after the 19th.


In unrelated news...
If you've been reading my Welcome to Chance series, I have a special gift for you! Sign up for my newsletter HERE and receive my bonus story "Two Weddings and A Brawl" for FREE as a thank you for subscribing. Be a guest at two of Chance's most beloved characters' weddings and witness, yep, you guessed it, an unforgettable brawl.
Oh, and now I have something else to LOVE about October... Our Giveaways!
NO TRICKS—JUST TREATS
Every Day is Treat Day in October. Each author will give away a prize of her choice on her posting day. That's 31 days of prizes. My prize today is a Kindle copy of my book, Still Here. It's a deeply romantic story with a paranormal element.
To
be entered
in
the random drawing for this prize, leave a comment with your email address written out (not as a hot link) on this post. The deadline for doing this is Oct. 9, Wednesday, at 8:00pm Central time. I'll draw the winner's name Thursday, October 10, and notify the winner by email and by leaving a comment on this post.
But Wait, There's More!
We're not just doing a daily random drawing for a prize. We're also doing a
Rafflecopter
with 4 Amazon Gift Card Prizes. Whoop! Big money! Visit our
Monthly Giveaways Page
for all the details.