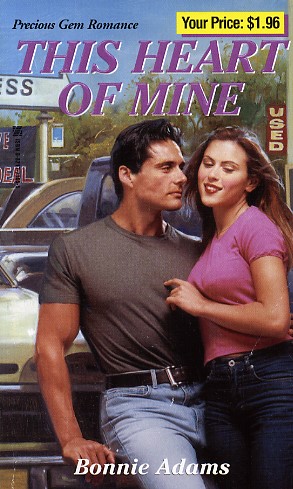 Long ago, covers were often painted portraits of real people in costumes against an appropriate backdrop for the romance. I had one of those covers. Artwork by Pino, a famous cover artist of the time graced my first book titled This Heart of Mine (Kensington Books).
Then, stock photos came into use and I got one of the first sensational, groundbreaking ones on The Hard Stuff, another Kensington title. This cover burst onto the scene like a meteor. It was discussed all over the media; from CNN to Geraldo Rivera. "These aren't your grandmother's romance novels," was heard in each and every news story.
And then suddenly, I was self-publishing a book that had never been published anywhere before. A book of my heart. Figuring prominently was a pitbull named Razor who was a bit battered, but happy and loving. Naturally, he was based on my own dog who'd already crossed the rainbow bridge. I was able to scan a 35mm picture of him and have him used as a cover model. I've never loved working on a cover project more.
From the Reader Letter:
If you're an animal lover, you'll recognize how much I loved my pit bull, Beau, whose image I got to use on my cover. He was young, fit, and always happy to play when that photo was taken. Time took away his glossy black patches and filled them in with gray, but his eyes never lost their adoring gaze. Too many of the bully breeds suffer at the hands of irresponsible people, but our Beau lived a joyful life...and never once growled or threatened another living being: human or canine. In fact he tolerated a rather dramatic cat who found ways to torture him, but that's another story for another day.
Today only I have another book that's free on Amazon. This is a collection of three stories set at Christmas and feature a matchmaking mutt named Bella. You guessed it, she was based on another family dog, a poodle cross who passed away just before the last book was released. Bella was a dancer and a cuddler who gets mentioned in reviews. Sweet girl is playing with my Beau...
Don't forget to enter our
Monthly Giveaway
This time, it's
winner's choice
with a lovely bunch of prizes from which to choose. Have a look and happy reading!
p.s. If you decide to read either Love in a Pawn Shop or Love at Christmas, I'd love to hear your thoughts in a quick review. BookBub is the perfect place because it's so easy. You can follow me here:
Bonnie on BookBub
a Rafflecopter giveaway